When operating a radio in the field, getting the best out of your equipment relies on understanding what is the best communications device to use in a given situation. High Frequency (HF) and Very High Frequency (VHF) transmissions are an important part of tactical operations, especially in rough terrain or remote locations. Ensuring your communications aren't interrupted or distorted is vital for better safety.
What is HF radio?
HF frequencies (in the 3-30 MHz band) are propagated by transmission from a radio transceiver, where it is reflected by the ionosphere back to Earth for reception by another radio set. This communications medium is perfect for long-range communications, and is widely used in tactical operations as a method of conversing between remote field operators and a central base.
What is VHF radio?
VHF operates at a higher frequency range than HF, usually between 30-300 MHz. These transmissions, due to their higher frequency, penetrate through the Ionosphere, with little or no refraction. VHF propagation is 'line of sight' in nature and so is restricted to shorter-range communications. Terrestrial transmissions make VHF the perfect medium for communications between field operators and other ground squads.
How can I get the best use out of them both?
Understanding when to use HF or VHF radio requires operators to have a rough idea of the distances over which they have to transmit. HF radios cover far greater distances thanks to ionospheric refraction – but the HF radio signals are prone to distortion by atmospheric conditions such as geomagnetic storms or solar flares that radio users cannot control. HF communications are best suited for long distance communication between ground operators and base stations.
The field benefits of VHF over HF radio is in their relative immunity to space weather conditions or electrical interference. However, because VHF transmissions travel more terrestrially, they can be affected or blocked entirely by land features such as buildings or mountains that distort line of sight transmission. VHF communications are best used for transmission of data between radio operators within line of sight over flat ground.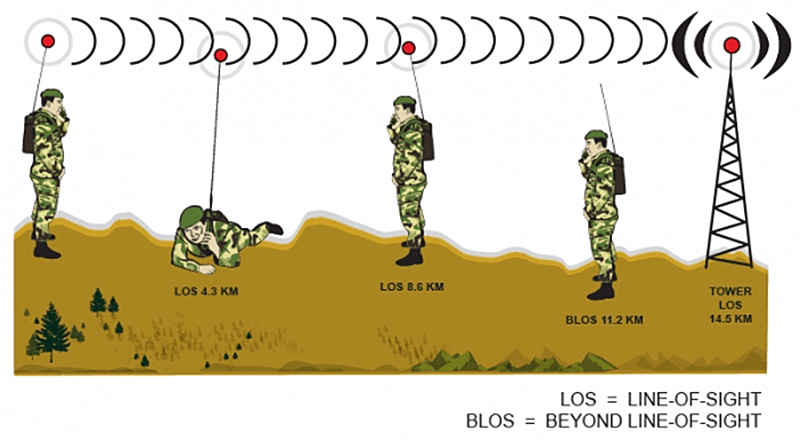 The importance of interoperability in the field
Traditionally, when personnel needed to transmit information over different distances, an operator will need to rebroadcast the information between different equipment – changing the signal from HF to VHF or vice versa – to make this possible. This can lead to voice distortion or operational errors which can be costly if mission-critical information is being communicated.
HF radio covers greater distances – but VHF radio isn't as influenced by atmospheric conditions or electrical influence.
Using both HF and VHF radio in the field is vital to achieving communication success. In order to get the best possible communications network, you should invest in tactical radio equipment that allows for interchange between HF and VHF radio signals.
Bas Communications Africa boast a notable range of tactical equipment, with HF and VHF coupled for an interoperable and all-in-one communications tool